How to recognize prime numbers and composite numbers.
A prime number is a whole number that has only two positive divisors which are by 1 and the number itself. A Composite number is a whole number can be devided evenly by any other number than or itself. Kids will learn how to recognize prime and composite numbes from a set of numbers. This is a great opportunity to clarify what a prime number is, what is a prime factor and what is a composite number.
Identification of Prime numbers vs composite numbers
Practice prime factorization quiz for grade 6 students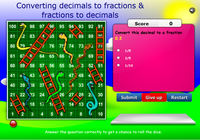 Our snakes and ladders decimals to fractions and fractions to decimals game will allow kids to check their understanding of this type of conversion.
Play now
Operations on decimals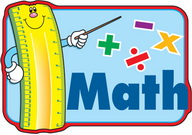 Go to worksheets
Converting fractions to decimals youtube video
How to convert fractions to decimals youtube video tutorial. Very easy way to quickly calculate the decimal value of a fraction with or without rounding.
Watch now